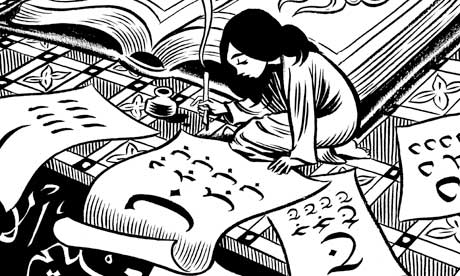 I've been enjoying reading other people's summaries of their favourite reads of 2011 so I thought I'd do a little post on some graphic novels I've enjoyed this year. I'm not very good at sticking to most fictional novels and often start books without finishing them. But I seem find reading graphic novels a whole lot easier these days!
Here's a few I enjoyed reading last year.
Tom and I were both eagerly awaiting Thompson's latest graphic novel, which took him six years to complete. When you see the book you can understand why - each page is so intricately detailed, it really is an amazing piece of art. The story is set in the Middle East and revolves around a young girl, Dodola who is sold into slavery by her parents as a child. She meets Zam and forms a deep friendship with him. If you enjoyed
Blankets
you should definitely read Habibi, it is a truly beautiful book.
Although it didn't come out last year I read Ethel & Ernest for the first time and found it ever so moving. It is the story of Briggs' parents, from their first meeting to their marriage and lives together in old age. This book definitely helped inspire me when writing the comic for my grandmother last year.
A rather different subject matter here, this autobiographical graphic novel is all about Brown's experience with prostitution. After his girlfriend leaves him for another man (both of whom Brown strangely chooses to live with for a long while afterwards) he decides that relationships aren't for him and starts to browse the personal ads section. I wasn't sure what to feel when I began reading but it was definitely an eye opener and a very honest account of what goes on in the world of prostitution.
I bought this book in Chicago and it was a fun read on my journey home. Julia Wertz is the slightly sarcastic author of Fart Party, and her first graphic novel details her move from San Francisco to New York. A funny memoir of losing jobs and drinking heavily, my only complaint was the chapters did seem a little similar after a while but I love hearing tales from different cities and Wertz makes for a very entertaining author.