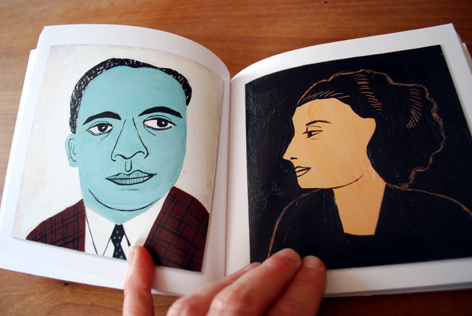 I first saw Swedish illustrator
Ingela Arrhenius
's work on
Book by Its Cover
, and was taken by her portraits for a recent exhibition entitled 142 Actors (
pages from the book shown above
). Ingela's illustrations are inspired by work from the 50s and 60s and various vintage items she finds and details on her
blog
. She is an avid collector of vintage board games, records, sugar bags and other items she finds in markets. Ingela has kindly agreed to answer some questions about her work and how she got started in design.
Part 2 follows later in the week!
1. How did you get your first illustration job?
After graduating from art scool I started to work as a freelance illustrator in a well-known illustrator group in Stockholm which was a good start. People knew about this group so I had a lot to do from the beginning. My first job there was a map and some computers, not the coolest assignment but it was big for me.



Above: Illustration for an article on healthy eating in Elle Magazine





Above: A roller blind designed for

Stromma Sweden
2. What has been your favourite project to date?
Right now I really enjoy working with patterns and products, such as children´s clothes, stationary, rollerblinds etc.


And I love when I create projects for myself which I don´t have time to do so often. The two last projects were fun; posters on an italian theme after a trip to Bologna and then my portraits project where I took time to paint. Since I work a lot at the computer I felt I had to work with acrylics and brushes. To show myself that I´m able to do that.